Jackets & coats & dresses
| Sizes | Clothing sizes | Chest | Waist | Seat |
| --- | --- | --- | --- | --- |
| XS | 8 | 78 - 81 cm | 64 - 67 cm | 87 - 90 cm |
| S | 10/12 | 82 - 90 cm | 68 - 74 cm | 91 - 98 cm |
| M | 12/14 | 86 - 94 cm | 71 - 78 cm | 95 - 101 cm |
| L | 14/16 | 90 - 97 cm | 75 - 82 cm | 98 - 104 cm |
| XL | 18 | 98 - 102 cm | 83 - 87 cm | 105 - 108 cm |
| 2XL | 20 | 103 - 109 cm | 88 - 94 cm | 109 - 113 cm |
| 3XL | 22 | 110 - 115 cm | 95 - 101 cm | 114 - 118 cm |
| 4XL | 24 | 116 - 121 cm | 102 - 108 cm | 119 - 123 cm |
| 5XL | 26 | 122 - 128 cm | 109 - 115 cm | 124 - 130 cm |
| 6XL | 28 | 129 - 135 cm | 116 - 122 cm | 131 - 137 cm |
| 7XL | 30 | 136 - 141 cm | 123 - 129 cm | 138 - 144 cm |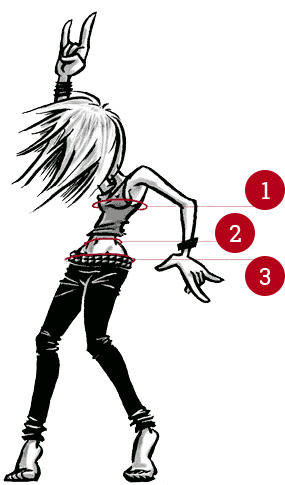 1. Chest:
The chest should be measured at the widest part of the chest area. It's important, that you measure from under the armpits.
2. Waist
The waist is measured around the narrowest part of the upper body. This is somewhere between the pelvis and the lowest ribs.
3. Seat:
The seat area is measured around the largest point of the butt.